Popular searches
Categories
Learn & Achieve
Collaborate & Lead
Deliver Value
Make Better Decisions
Industry Knowledge
Live Well
Sub categories
Be more productive
Learn & grow
Behavioural economics
Innovate
Collaborate & influence
Manage projects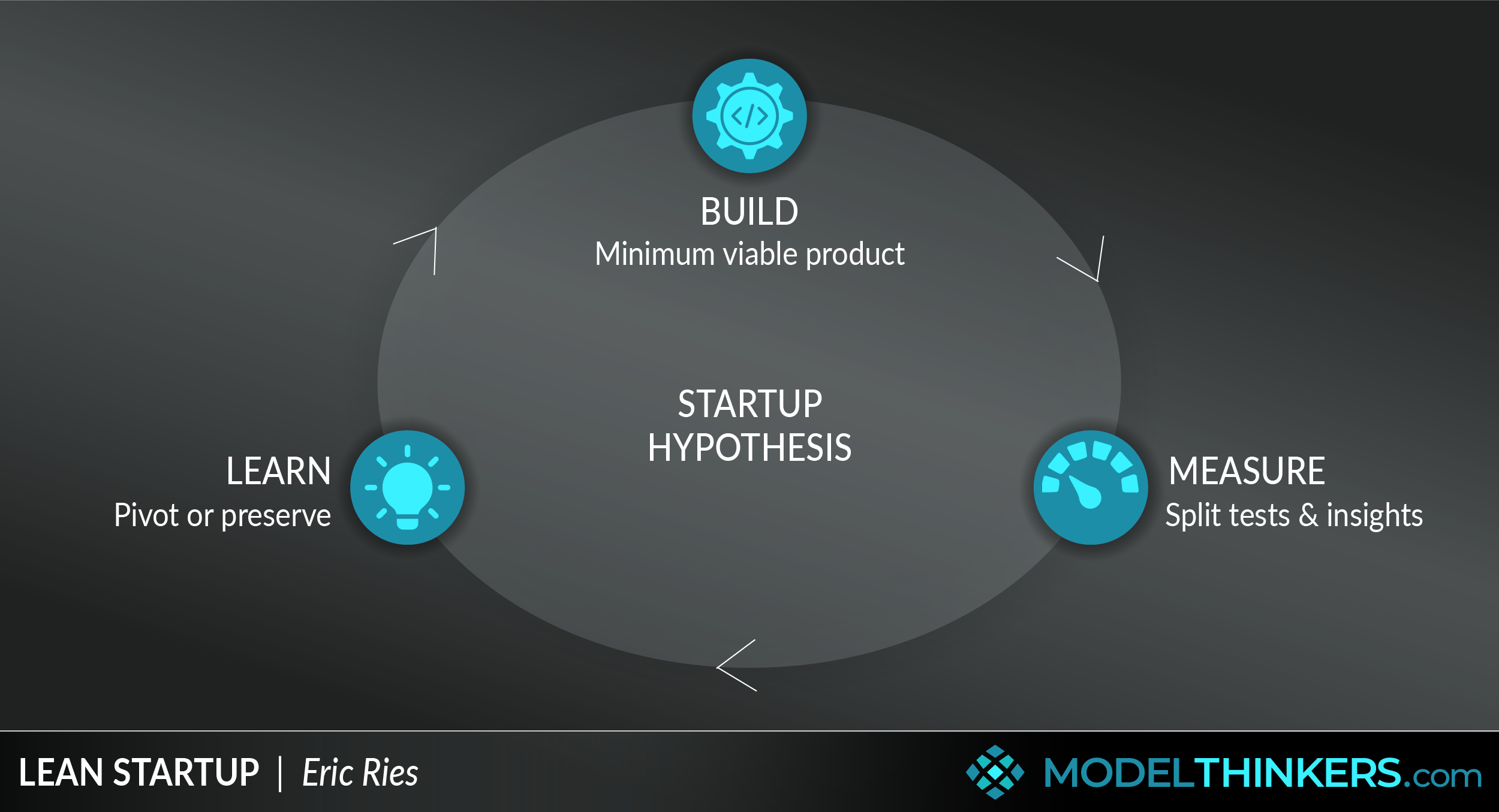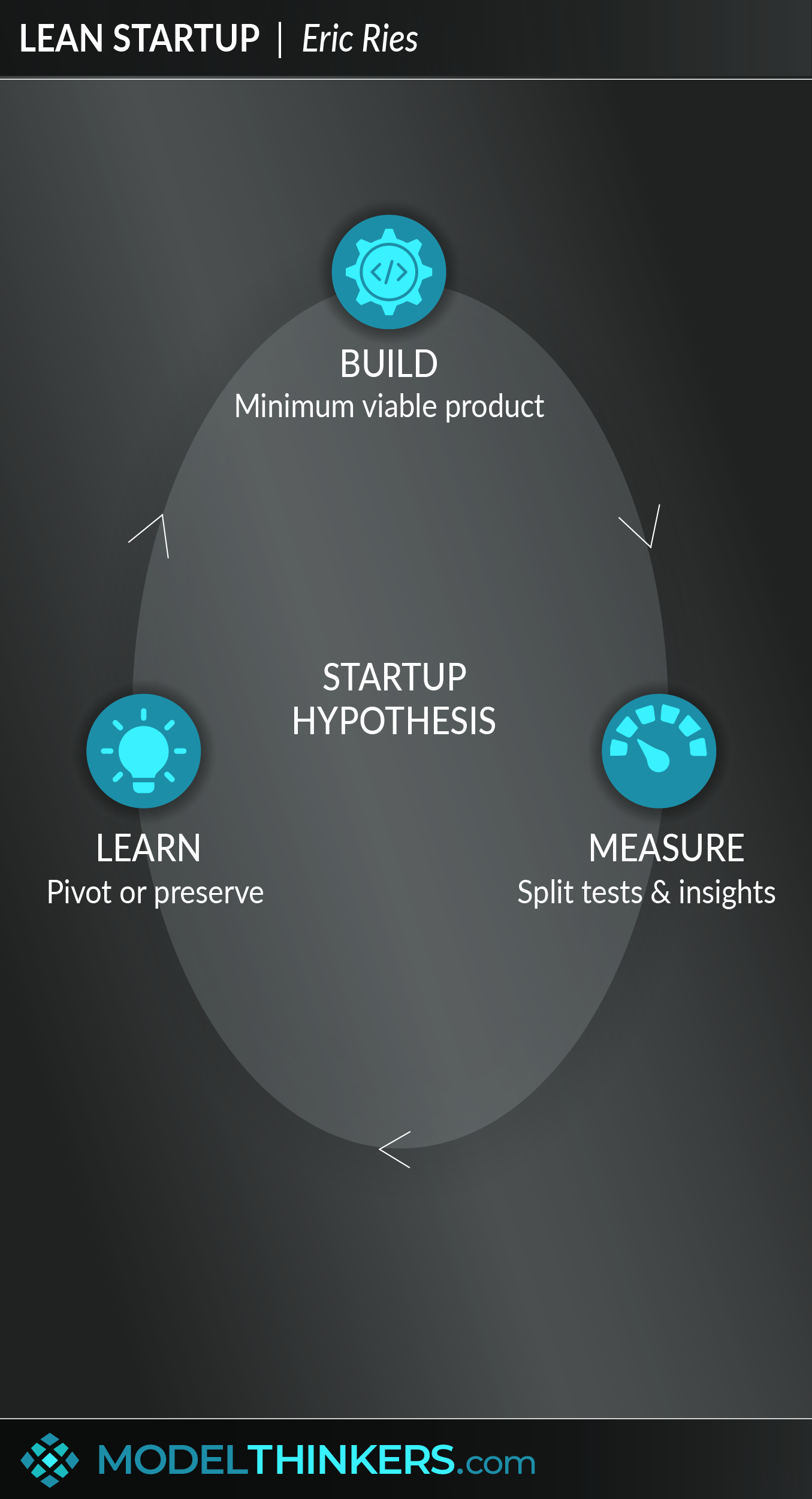 0

saved

5.7K views
Share this with your network




Share this with your network




Overview
Eric Reis' Lean Startup struck a chord amongst startups and product development teams alike. Rather than a single new model, it essentially grouped together a few models into a practical, easy to use bundle.
The Lean Startup is an approach to launch new companies/ products through iterative and quick experimentation and customer feedback loops, rather than elaborate planning and costly up-front development.
BUILD-MEASURE-LEARN.
If you see similarities with Lean Thinking and Agile Methodology, you'd be right.
Although generally associated with startups, Reis argues that both new and existing companies must view themselves as 'innovation factories' and implement similar techniques. At the heart of Reis' approach is his 'Build-Measure-Learn' feedback loop, which allows for a growing understanding of their needs and quick pivots as required.
For example, Reis explained that, rather than building a service, you might consider taking a Minimum Viable Product approach by creating a landing page that promised to deliver it. Then you could use a Split Test to compare sign-ups to that page with a control landing page to judge customer interest.
FOUR QUESTIONS.
Lean Startup ultimately aims to quickly and cost-effectively answer four questions:
Do consumers recognise that they have the problem you are trying to solve?
If there was a solution, would they buy it?
Would they buy it from you?
Can you build a solution for that problem?




Share this model with your network to be smarter, faster, together!
Actionable Takeaways
Test your riskiest assumption.
Use the Lean Startup approach to test your riskiest assumption — about whether your product should actually exist? This involves exploring customer needs and what they are prepared to pay for early and often.
Keep experimenting and testing.
Even after your initial assumption is validated, continue to seek out cycles of build-measure-learn to identify trends and deeper understanding of how your product might better add value.
Use effective data and split tests.
Find comparison points to your experiments and rely on data rather than impressions. This includes engaging with real customers over focus groups.
Being receptive to feedback and data means being open to letting go of existing plans and roadmaps and shifting approaches as required.
Use new accounting methods
Reis argues that traditional accounting methods do not adequately capture the potential success of a new business/ product. Instead, he suggests observing user activity, engagement and other metrics which can be monetarised at a future point.
Explore More
Lean Startup is featured in these playbooks:
Some have criticised the messenger rather than the message, pointing to Reis' limited success before writing the Lean Startup book. Others express frustration that the model really encapsulates other approaches that were already in circulation.
Perhaps a more substantive criticism is the risk in going to market without a product to test an idea, is the ease of competitors to capitalise on it before you.
It has also been accused of providing 'false negatives' where an idea is rejected because of initial negative feedback but might have succeeded if pursued further. Similarly, constant pivoting based on feedback might lead to a lack of clear market strategy or message.
Startups - Dropbox
Dropbox is one of the most cited examples of lean startup. It has developed into a popular product but began its life as a minimum viable product consisting of a 3 minute screencast showing what Dropbox could do.
The positive response identified demand, provided feedback and helped build a network for their eventual product launch.
Large corporates - GE's energy storage division.
When the general manager of the GE energy storage division identified that a new battery developed by the unit had potential to disrupt the industry, rather than scale up and and launch, they embraced learn startup techniques. They focused on customer discovery, meeting with potential customer to better understand their needs. This informed a new focus on utilities and other sectoral changes before they'd even build their first new battery.
An approach - crowdfunding
Crowdfunding can be a form of Lean Startup as it offers the opportunity to test an idea and ask them to invest into a product idea. Another simple approach might involve simply creating a landing page or website for a future product idea.
This model will help you to:
The lean startup applies mental models developed from lean manufacturing and software development, and aligns with agile methodology in its approach to iteratively understand how to deliver greater value.
Use the following examples of connected and complementary models to weave the lean startup into your broader latticework of mental models. Alternatively, discover your own connections by exploring the category list above.
Connected models:
Lean thinking: framing the metal model and approaches to startups.
Minimum viable product: a core part of the lean startup.
Split testing & A/B testing: referenced as a core approach.
Agile methodology: to effectively implement a lean startup approach.
High velocity decisions: as a framework to embrace a bias to action.
Complementary models:
Golden circle: to maintain your why during those pivots.
Porter's five forces: analysis to understand a competitive market.
Blue ocean strategy: to explore untested markets.
Red queen effect: the drive for competitors to adopt a lean startup approach.
Diversification: to expand existing product ranges.
Design thinking: a useful approach for any startup.
The Lean Startup by Eric Ries was published in 2011 and set the framework for this approach. It's origins can be traced back to lean methodology in manufacturing and software development, and he was also highly influenced by agile methodology. Find out more at Reis' Lean Startup website here.

My Notes
Oops, That's Members' Only!
Fortunately, it only costs US$5/month to Join ModelThinkers and access everything so that you can rapidly discover, learn, and apply the world's most powerful ideas.
ModelThinkers membership at a glance:

UNLOCK EVERYTHING
Access all mental models and premium content.

BUILD YOUR LATTICEWORK
Save models to your personal list.

QUICKLY MEMORISE MODELS
Use our Learn function to embed models to memory

PERSONALISE MODELS
Add your own notes and reminders.

BUILD YOUR 'EXTERNAL BRAIN'
Discover a new idea? Capture it by adding a new model.

JOIN THE MT COMMUNITY
Rate models, comment and access exclusive events.
"Yeah, we hate pop ups too. But we wanted to let you know that, with ModelThinkers, we're making it easier for you to adapt, innovate and create value. We hope you'll join us and the growing community of ModelThinkers today."
Arun Pradhan & Shai Desai
CoFounders, ModelThinkers.
You Might Also Like:
- Actionable summaries of the world's most powerful ideas.