Popular searches
Categories
Learn & Achieve
Collaborate & Lead
Deliver Value
Make Better Decisions
Industry Knowledge
Live Well
Sub categories
Be more productive
Learn & grow
Behavioural economics
Innovate
Manage projects
Collaborate & influence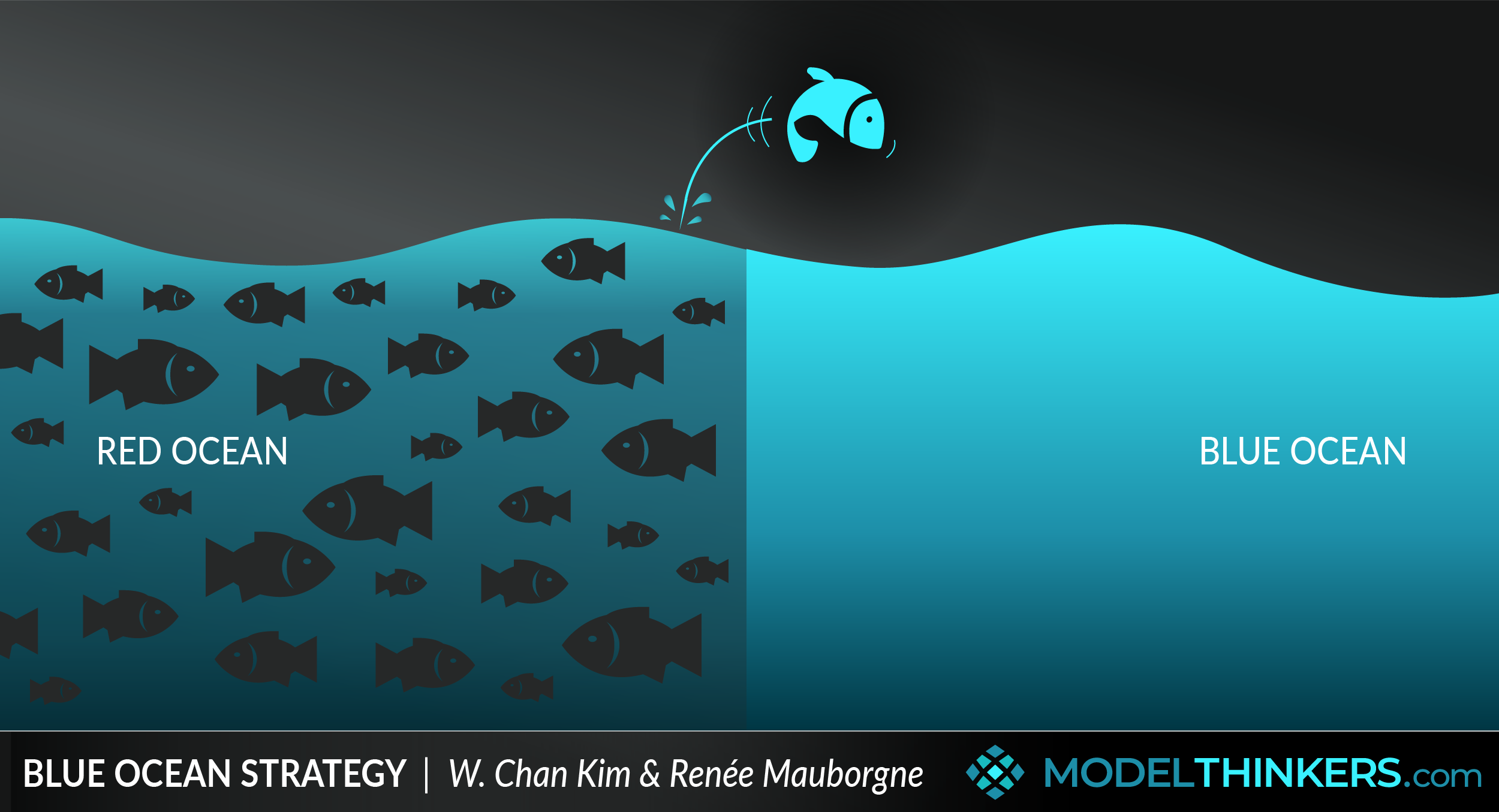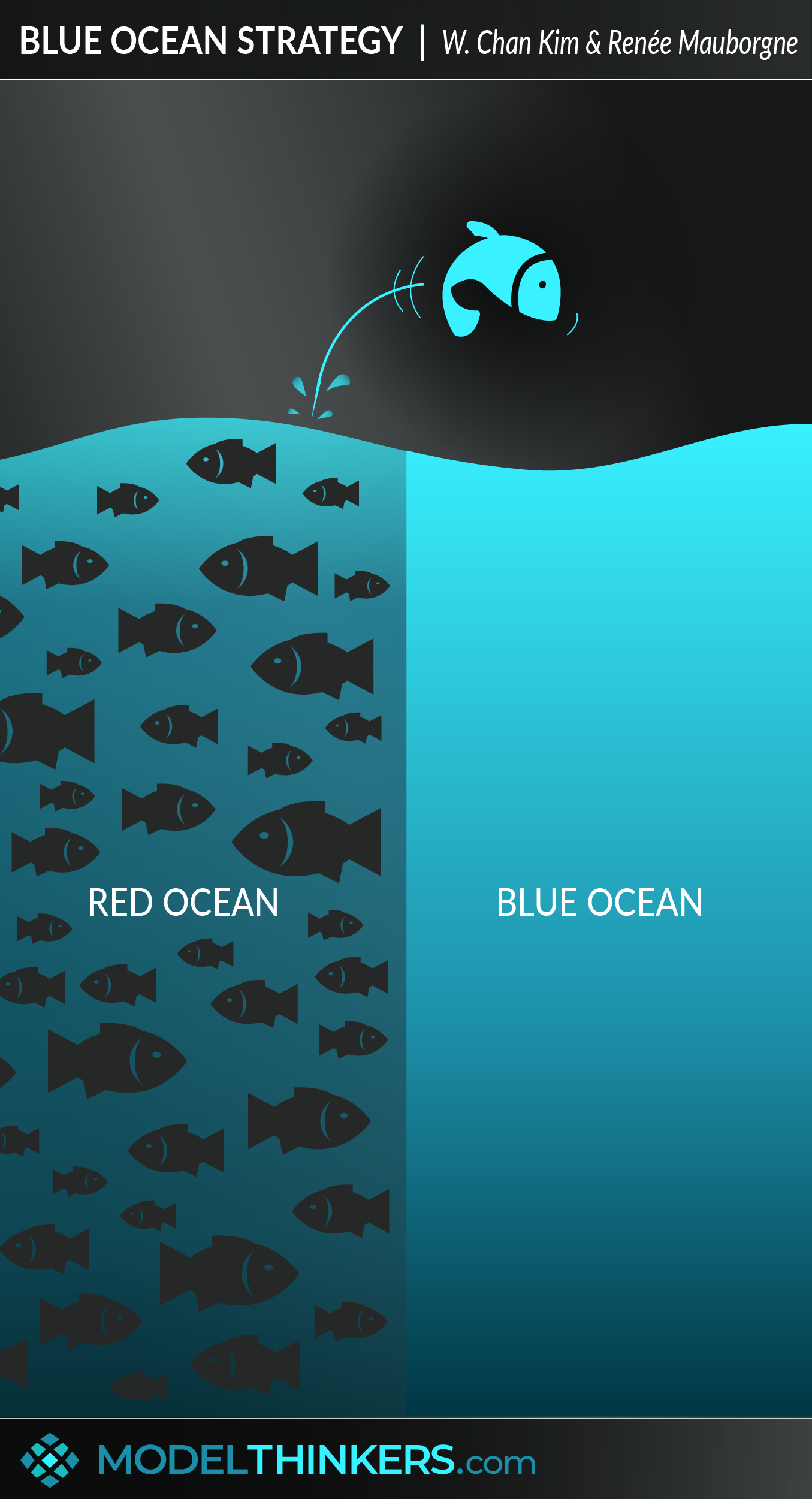 0

saved

4.3K views
Share this with your network




Share this with your network




Overview
Sometimes the real opportunities are not where the most activity is.
The Blue Ocean Strategy is a business strategy to seek differentiation and low cost to open up new, untapped markets.
SEEKING NEW MARKETS.
It's a mental model that promotes business growth through new and underdeveloped markets rather than competing in 'red oceans', or traditional highly competitive markets.
Embracing a Blue Ocean Strategy means rather than outperforming competitors in your market, you will redefine that market and reach an extended customer base through an innovative approach. Rather than beating your competition, the aim is to change the game, realign to new opportunities, and make your competition irrelevant.
VALUE INNOVATION.
The blue ocean strategy promotes 'value innovation', which places equal importance on value and innovation. It essentially argues that customers do not have to choose between value or affordability — instead, it's up to companies to reimagine how they deliver value differently and when they do so in an uncontested area of low competition, they can generally deliver this value at lower costs.
IN YOUR LATTICEWORK.
This model has some similarities to the Red Queen Effect, in its call to action to compete smarter rather than in traditional methods in a crowded marketplace where your competitors are doing the same thing. The Lock-In Effect adds greater weight to this model, presenting an understanding that winning customers from incumbents is not just a simple case of greater value. Finally, you might use tools such as Porter's Five Forces as part of a competitive analysis.




Share this model with your network to be smarter, faster, together!
Actionable Takeaways
Stop competing and start creating.
Rather than trying to keep up with or move faster than the competition, consider how to reframe the game by delivering value to new and unexplored market sectors.
Value innovation is the pursuit of differentiation and low cost that changes the playing field and creates new value for the market. Being a niche player while providing products at lower costs is considered the recipe for success.
Establish a new value curve.
Redefining your product to reach a blue ocean area implies creating factors that the industry has never offered. This involves choosing which factors to raise above industry standards and which to reduce, and having the courage to identify and eliminate useless factors that the industry takes for granted.
Explore More
Blue Ocean Strategy is featured in these playbooks:
Critics of the Blue Ocean Strategy claim that this mental model is more of a retrospective tool rather than a predictive one, as it applies to past business success examples. Stories of companies that have actually used the theory to stand out from the crowd are scarce.
It is not a simple thing to find a 'blue ocean' and, if you are successful, it will often require additional investment to establish market knowledge of your goods or services. While you won't be competing with another company, you will likely be competing with your new potential customers' ignorance or misunderstanding of your value proposition.
Cirque du Soleil
Perhaps the most commonly cited example related to blue ocean strategy, Cirque de Soleil launched in the 1980s and rapidly reinvented the circus industry by pursuing clear differentiation and relatively low-cost alternatives. By transforming their offer they shifted away from traditional family audiences and accessed corporate and adults as a new, untapped market in this space.
The National Orchestra of Iraq.
The authors of Blue Ocean Strategy cite the case of the National Youth Orchestra of Iraq. This orchestra found success by "reducing the emphasis on technical excellence and a sophisticated European repertoire" and instead focusing on "the power of music to bridge the deepest divides and highlight Iraq's rich heritage." They essentially stopped competing with European equivalents, instead of focusing on diversity and a different narrative of success.
iTunes charts a new path.
Apple launched iTunes at a time when the music industry was struggling with growing illegal downloads. Most players continued battling in the red ocean, which was shrinking due to these downloads. iTunes created a new category of music sales that allowed artists to profit and offered increased consumer flexibility, with the ability to shop online and buy single songs rather than entire albums.
This model will help you to:
The blue ocean and red ocean strategy relate to business strategy and marketing.
Use the following examples of connected and complementary models to weave the blue ocean strategy into your broader latticework of mental models. Alternatively, discover your own connections by exploring the category list above.
Connected models:
The Red Queen effect: understanding that moving faster in your existing market will not suffice.
Disruptive innovation: the need to create new markets and 'reframe the game'.
The 4Ps of marketing: to consider marketing and product strategy.
Lock-in effect: even if a low cost alternative was provided, what are factors that will cause blocks to uptake.
Porter's five forces: to assess and understand a competitive market.
Complementary models:
First principle thinking: to cut through existing assumptions within a contested market.
The golden circle: to be clear on strategies that align with the core of your business.
The Lindy effect: as a challenge to starting something new and/or challenging something old.

My Notes
Oops, That's Members' Only!
Fortunately, it only costs US$5/month to Join ModelThinkers and access everything so that you can rapidly discover, learn, and apply the world's most powerful ideas.
ModelThinkers membership at a glance:

UNLOCK EVERYTHING
Access all mental models and premium content.

BUILD YOUR LATTICEWORK
Save models to your personal list.

QUICKLY MEMORISE MODELS
Use our Learn function to embed models to memory

PERSONALISE MODELS
Add your own notes and reminders.

BUILD YOUR 'EXTERNAL BRAIN'
Discover a new idea? Capture it by adding a new model.

JOIN THE MT COMMUNITY
Rate models, comment and access exclusive events.
"Yeah, we hate pop ups too. But we wanted to let you know that, with ModelThinkers, we're making it easier for you to adapt, innovate and create value. We hope you'll join us and the growing community of ModelThinkers today."
Arun Pradhan & Shai Desai
CoFounders, ModelThinkers.
You Might Also Like:
- Actionable summaries of the world's most powerful ideas.