Popular searches
Categories
Learn & Achieve
Collaborate & Lead
Deliver Value
Make Better Decisions
Industry Knowledge
Live Well
Sub categories
Be more productive
Learn & grow
Behavioural economics
Innovate
Collaborate & influence
Manage projects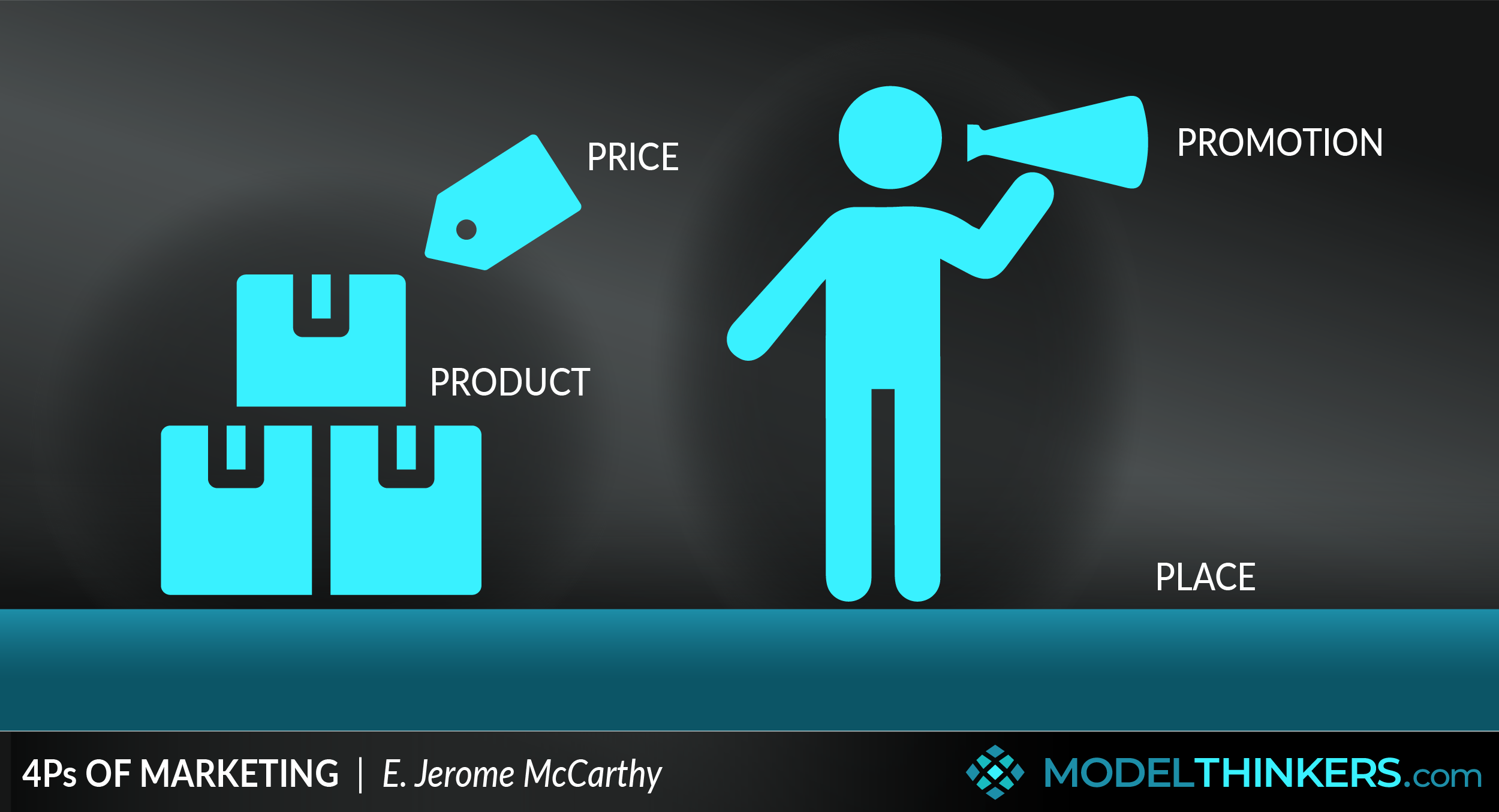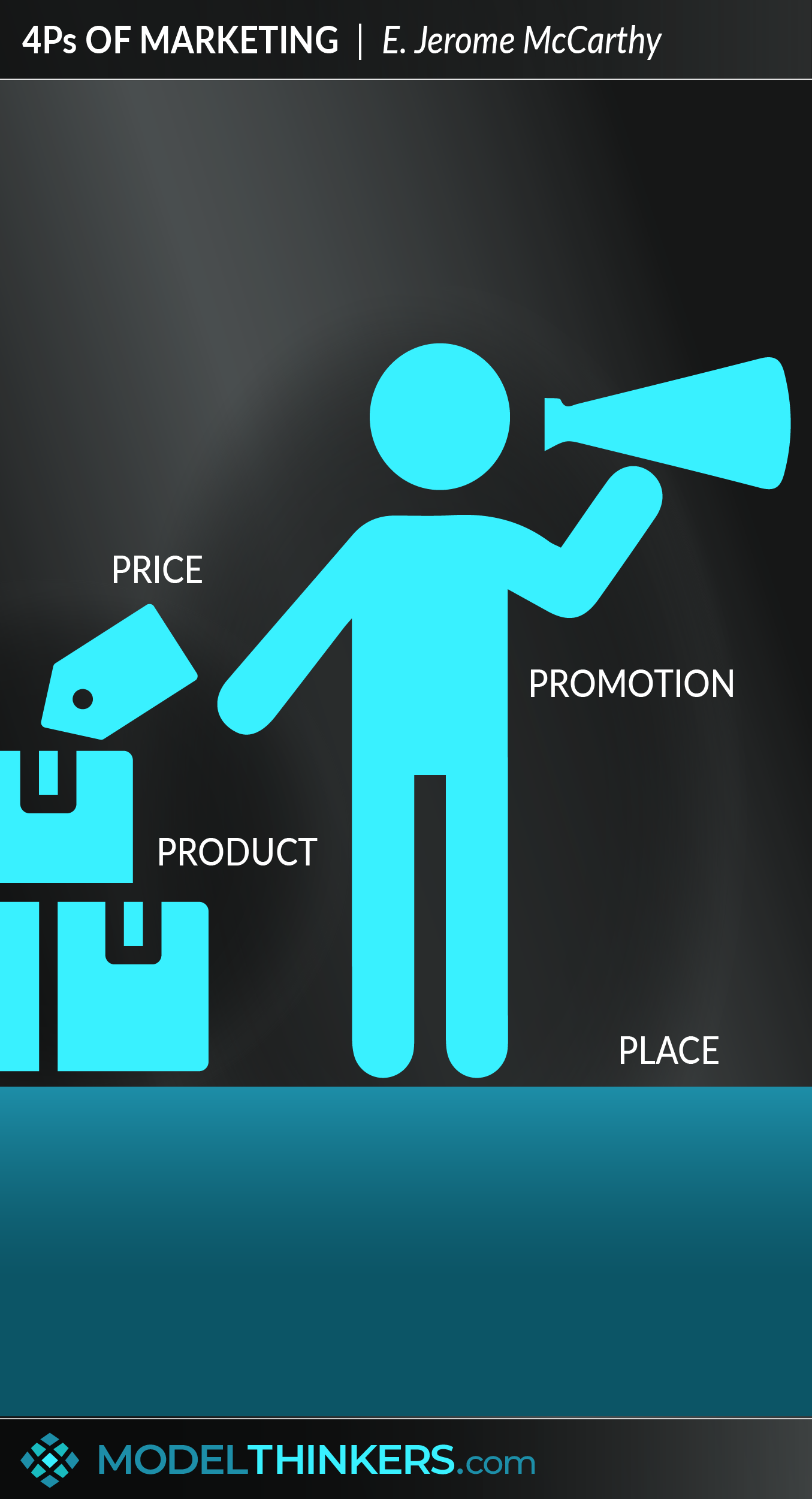 0

saved

5.6K views
Share this with your network




Share this with your network




Overview
Need a quick checklist or an in-depth structure for your marketing strategy?
The 4Ps of Marketing, often known as the 'marketing mix', is a mental model that describes product, price, place and promotion as four key pillars of a marketing strategy.
THE START OF YOUR MARKETING JOURNEY.
First published in the 1960s, this model continues to be influential in marketing management and strategy. It has been critiqued and variations proposed to include the addition of process, people, and physical evidence. Others have also suggested alternatives such as the 4Cs of Consumer, Cost, Convenience, and Communication to shift to a customer-centric approach. Nevertheless, it remains a useful framework to consider some key questions about your marketing campaign.
KEY QUESTIONS TO ASK FOR THE 4Ps.
WHAT
QUESTIONS

PRODUCT
What you sell and how it meets your customer needs.

What are your product features and varieties?
What's your product's Value Proposition?
What problem is it trying to solve for whom?
How does it relate to existing products?
How is it branded?

PRICE
How much you charge.

How much will your audience value it?
Are you aiming to undercut competitors?
Will you provide a premium and expensive offer?
Where is your profit generated from beyond the consumer product price?
Will you discount the price for distributors or other key segments?

PLACE
Where you promote to connect with your audience.

What is your physical or online location?
What are your distribution channels?
Where are your customers or potential audience going to be?
How are you handling transport, servers, inventory etc.?
Do you need a sales team or affiliate model?

PROMOTION
How tell your audience about what you have and how it's different.

What's your basic marketing strategy to connect with your audience?
Will you pursue a freemium strategy of 'try before you buy'?
How will you balance options such as online, print, sponsors, signage, direct marketing, social media etc?

IN YOUR LATTICEWORK.
Any marketing approach must begin with a clear understanding of what your product offers to which audience, so begin by clarifying and testing your Value Proposition. This process will likely also include becoming clear on your product's Features versus Benefits.
After you've defined the product and the need it satisfies, you have an opportunity to understand your audience better. Consider using tools such as Empathy Maps, Personas, and Journey Mapping to better define their expectations.
Finally, consider using an iterative approach to apply the 4Ps. This might include Prototyping, running Split Tests, and delivering a Minimum Viable Product.




Share this model with your network to be smarter, faster, together!
Actionable Takeaways
Consider your product value proposition
Explore the value proposition of your product, including what problem it solves, how it reduces pain or friction and/or increases gain of your customers.
Consider your pricing strategy
Are you aiming to penetrate a market with a starting low price at the risk of undervaluing your product; will you bundle offers; or aim to target a smaller premium market with high prices. These are just some of the pricing options to consider which are covered further in additional mental models.
Consider place, delivery and distribution
Your product's success depends considerably on the distribution channels you choose. These might include retail stores, wholesalers, online stores, as well as potentials for B2B vs B2C channels.
This involves more traditional marketing and communication strategies and your plan to target specific audience groups with your product rollout. It might include a 'freemium' content strategy versus paid advertising.
Explore More
4Ps of Marketing is featured in these playbooks:
Critiques of the original 4P model have expanded it and provided alternatives. For example, the 7Ps model adds process, people, and physical evidence while, in other circles, an 8th P is represented by performance.
An alternative approach includes Lauterborn's version of the marketing mix consisting of 4Cs — Consumer, Cost, Convenience, and Communication — to address the movement from mass marketing to niche marketing in a more consumer-oriented approach.
McDonalds.
View this Panmore Institute case study of McDonalds through the lens of the 4Ps. Some takeaways include:
Product: while known for burgers the franchise has consistently expanded its product base.
Place: the products are tied to a physical restaurant however the company has aimed to expand customer flexibility through the use of kiosks, mobile apps, and postmates websites along with other partners.
Promotion: McDonalds leverages a significant advertising budget, sales promotion, public relations and direct marketing. They spend most of their marketing budget on traditional media, with significant forays into sales promotions such as discount coupons and freebies.
Pricing: McDonalds particularly leverages bundle pricing, offering meals and product bundles that are discounted compared to the separate products. They also use common pricing techniques such as pricing items at $x.99 to reinforce the perception of being more affordable.
This model will help you to:
The 4Ps of marketing remains a fundamental marketing mental model.
Use the following examples of connected and complementary models to weave 4Ps of marketing into your broader latticework of mental models. Alternatively, discover your own connections by exploring the category list above.
Connected models:
Value proposition: to outline the problem the product or service solves for whom.
Features vs benefits: to understand relevance and target audience.
Blue ocean strategy: when considering which market to target.
Lock-in effect: to consider customer loyalty and resistance to moving.
Complementary models:
Cialdini's six principles of influence: to consider broader marketing engagement.
Diversification: as a marketing and even product strategy.
Fishbone diagram: using the 4Ps, or an expanded version, as part of a root cause analysis.

My Notes
Oops, That's Members' Only!
Fortunately, it only costs US$5/month to Join ModelThinkers and access everything so that you can rapidly discover, learn, and apply the world's most powerful ideas.
ModelThinkers membership at a glance:

UNLOCK EVERYTHING
Access all mental models and premium content.

BUILD YOUR LATTICEWORK
Save models to your personal list.

QUICKLY MEMORISE MODELS
Use our Learn function to embed models to memory

PERSONALISE MODELS
Add your own notes and reminders.

BUILD YOUR 'EXTERNAL BRAIN'
Discover a new idea? Capture it by adding a new model.

JOIN THE MT COMMUNITY
Rate models, comment and access exclusive events.
"Yeah, we hate pop ups too. But we wanted to let you know that, with ModelThinkers, we're making it easier for you to adapt, innovate and create value. We hope you'll join us and the growing community of ModelThinkers today."
Arun Pradhan & Shai Desai
CoFounders, ModelThinkers.
You Might Also Like:
- Actionable summaries of the world's most powerful ideas.