Popular searches
Categories
Learn & Achieve
Collaborate & Lead
Deliver Value
Make Better Decisions
Industry Knowledge
Live Well
Sub categories
Be more productive
Learn & grow
Behavioural economics
Innovate
Collaborate & influence
Manage projects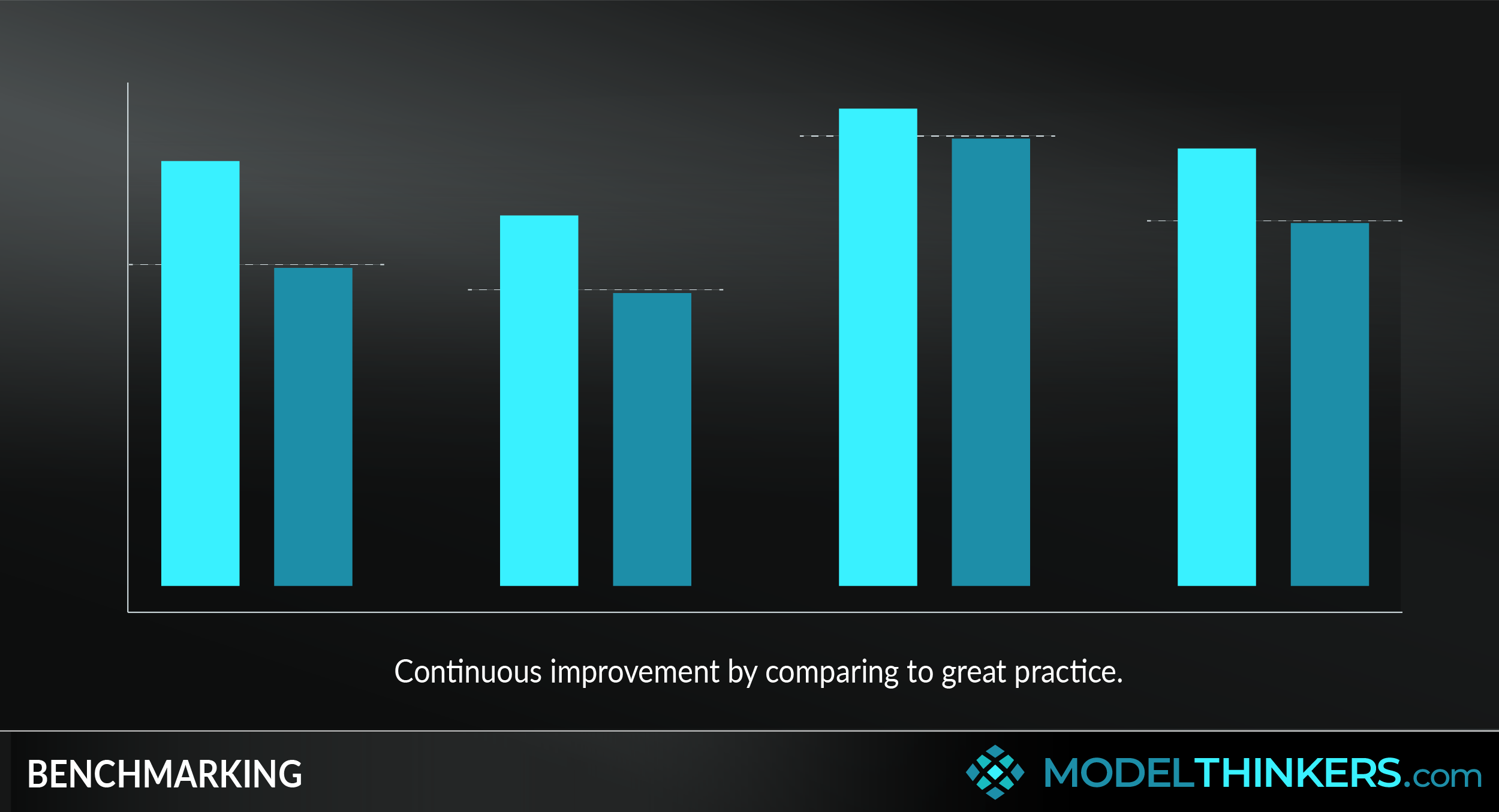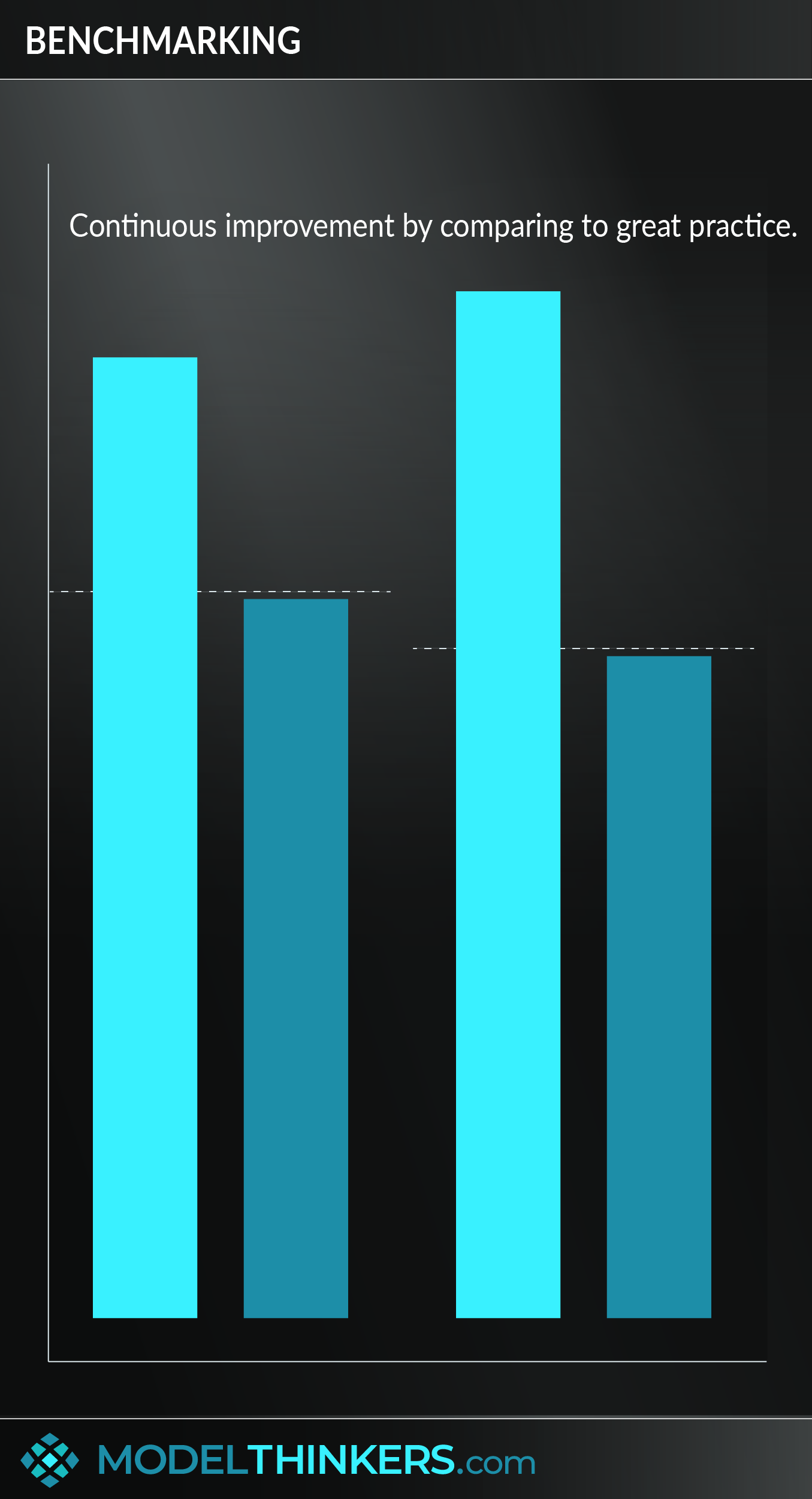 0

saved

4.6K views
Share this with your network




Share this with your network




Overview
Benchmarking helps to improve company performance in an area by referencing best practice examples and comparisons.
The process of Benchmarking usually involves comparing your company's performance metrics against that of industry leaders to define 'what good looks like' and use it as a comparison.
BEST PRACTICE COMPARISON.
Benchmarking allows for the identification of approaches and methods which can be adopted in your context and supports a business case to take action on these approaches.
Benchmarking helps to gain a reality check as to a company's approach, supports continuous improvement, and can develop a greater understanding of your company's advantages and relative position in the market. Benchmarking can also be used as an internal process, comparing business units within a company along defined metrics.
POSSIBLE METRICS.
Common metrics often include revenue, customer satisfaction, production cost, employee retention, financial outcomes and process cycle time. While a traditional approach involves comparisons within an industry, non-competitive arrangements from different industries present fewer obstacles.
TYPES OF BENCHMARKING.
There are many types of Benchmarking possible, some of the most common ones include:
Process Benchmarking: for process improvement or when considering outsourcing back-office processes.
Financial Benchmarking: financial analysis and comparison to assess relative competitiveness.
Strategic Benchmarking: comparing strategic and business models, though the complexity and varied metrics in this area make it more challenging.
Performance Benchmarking: outcomes are defined, ranging from any of the above to Net Promoter Scores, and compared.




Share this model with your network to be smarter, faster, together!
Actionable Takeaways
Identify areas for potential improvement.
Targeting particular areas can allow greater precision in choices of companies and metrics for the rest of the benchmarking process. It can also be part of a hypothesis, testing out whether the area actually does represent a current weakness.
Choose a specific indicator.
In order to get the most from benchmarking, you need to measure performance using a specific indicator, such as cost per unit of measure, defects per unit of measure, cycle time spent per unit of measure, etc..
Choose the benchmarking methodology that suits your organisation.
There are a number of benchmarking processes. A basic approach includes selecting the focus area (product, service or process); identify performance metrics; select comparison companies; collect data; analyse data; adapt and implement lessons. Additionally, you can perform multiple types of benchmarking, such as financial benchmarking, product benchmarking, functional benchmarking, and so on.
Consider options beyond your industry.
Generally benchmarking involves comparisons from within your industry, however, there are exceptions. If you are targeting a particular area consider looking for best practice from another industry. For example, a bank seeking to improve customer service might look to a hotel chain that has a strong reputation in this industry.
Explore More
Benchmarking is featured in these playbooks:
One limitation of benchmarking lies in the response to it by stakeholders and is best described by the three Ds of benchmarking: disbelief, denial, and despair. This involves stakeholders not believing the presented results, denying that companies are comparable, and feeling overwhelmed by the objective of catching up with competitors.
Another criticism is that benchmarking focuses on 'keeping up' by emulating approaches already in the market rather than considering new options to leap ahead. It also might inadvertently copy negative approaches.
Finally, the idea of 'best practice' might be considered to be flawed. Best practices generally help maintain quality when there are no mandatory standards in place. However, it might be argued that 'best' assumes that there is a particular way or methodology to succeed. An alternative term is 'great practice' which identifies strong approaches which may or may not be transferable to your context and needs.
Xerox in the 80s.
The 1980s saw Xerox being beaten in the production of copiers by Japanese companies who had lowered manufacturing costs by up to 50%. Xerox launched a 'leadership through quality' program which had benchmarking as a cornerstone of its approach.
At first, Xerox benchmarked production costs against Japanese competitors. At the same time, other parts of their business began internal benchmarking as well. Finally, parts of their business sort non-competitive benchmarking partners. Specifically, the Xerox Logistic and Distribution unit benchmarked against L.L Bean, Inc., an outdoor sporting retailer and mail house.
This model will help you to:
Benchmarking is a basic business performance tool.
Use the following examples of connected and complementary models to weave benchmarking into your broader latticework of mental models. Alternatively, discover your own connections by exploring the category list above.
Connected models:
The GE McKinsey nine box matrix and BCG growth-share matrix: an alternative method to compare and consider the impact of business units.
Balanced scorecard: potential metrics to consider while benchmarking.
Feedback loops: providing a reality check and ongoing feedback.
Complementary models:
Deliberate practice: a key step involves expert feedback or knowing what good looks like in comparison with current behaviours.
Munger's latticework: consider identifying successful in your or other related fields and discover which mental models they use.
Red Queen effect: a warning about simply keeping up with competitors.
The term benchmark originated in the field of armaments where it described the improved performance in guns. The modern history of benchmarking in the business context started in the 1950s when companies began to look for improvement solutions by doing reverse engineering. This trend continued with the development of competitive benchmarking in the mid-1970s by Xerox.

My Notes
Oops, That's Members' Only!
Fortunately, it only costs US$5/month to Join ModelThinkers and access everything so that you can rapidly discover, learn, and apply the world's most powerful ideas.
ModelThinkers membership at a glance:

UNLOCK EVERYTHING
Access all mental models and premium content.

BUILD YOUR LATTICEWORK
Save models to your personal list.

QUICKLY MEMORISE MODELS
Use our Learn function to embed models to memory

PERSONALISE MODELS
Add your own notes and reminders.

BUILD YOUR 'EXTERNAL BRAIN'
Discover a new idea? Capture it by adding a new model.

JOIN THE MT COMMUNITY
Rate models, comment and access exclusive events.
"Yeah, we hate pop ups too. But we wanted to let you know that, with ModelThinkers, we're making it easier for you to adapt, innovate and create value. We hope you'll join us and the growing community of ModelThinkers today."
Arun Pradhan & Shai Desai
CoFounders, ModelThinkers.
You Might Also Like:
- Actionable summaries of the world's most powerful ideas.