Popular searches
Categories
Learn & Achieve
Collaborate & Lead
Deliver Value
Make Better Decisions
Industry Knowledge
Live Well
Sub categories
Be more productive
Learn & grow
Behavioural economics
Innovate
Collaborate & influence
Manage projects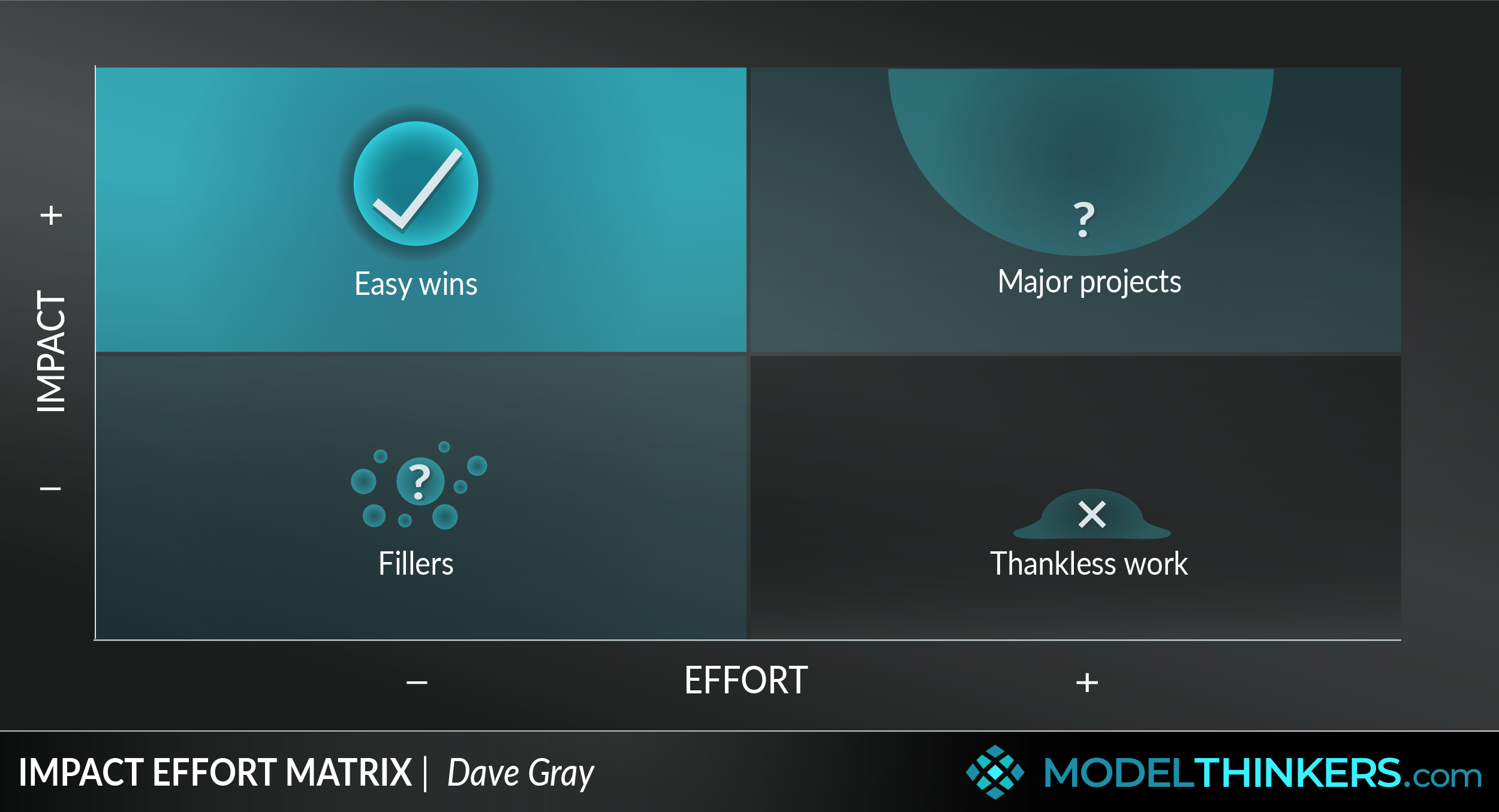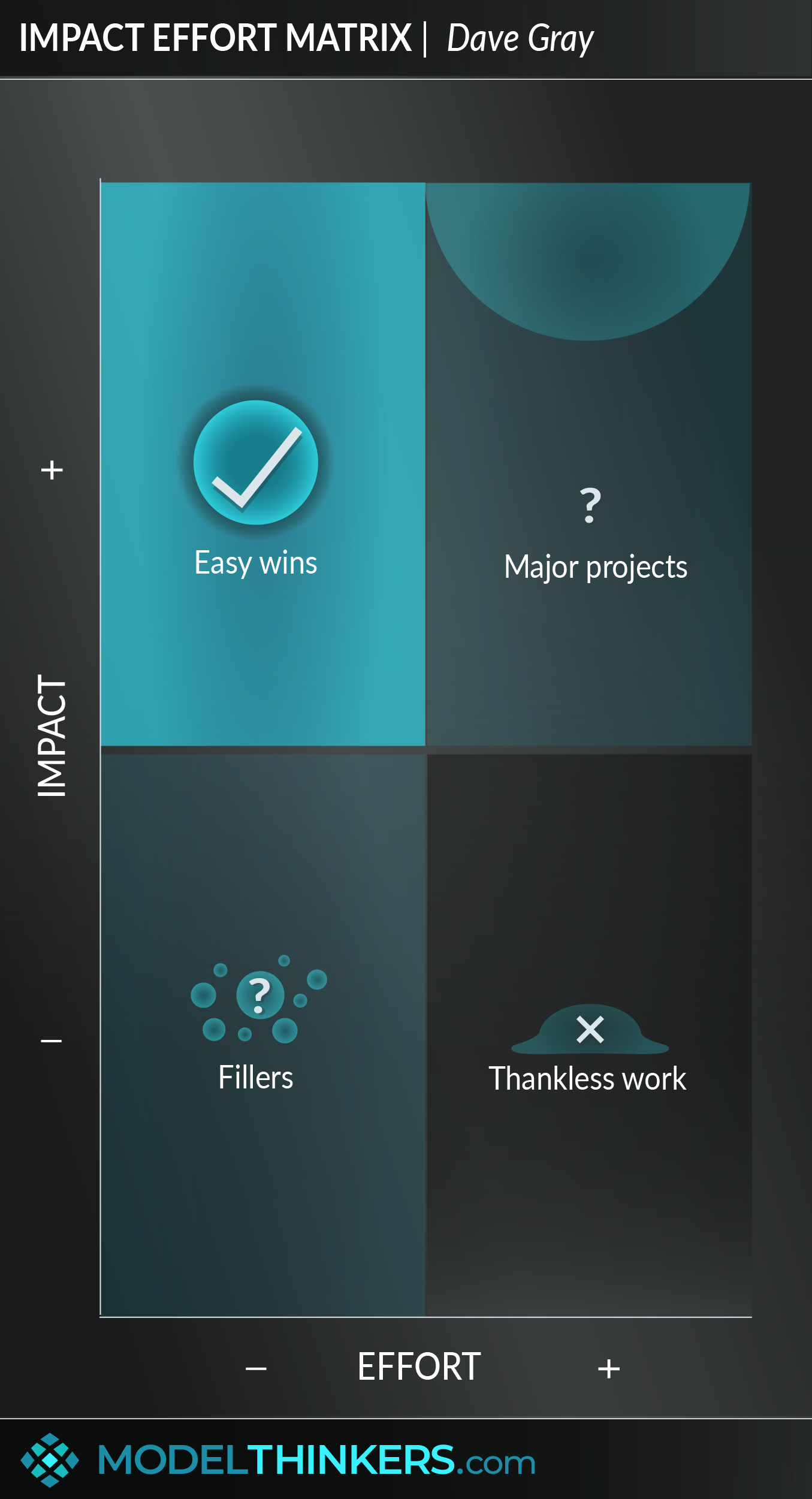 0

saved

31.1K views
Share this with your network




Share this with your network




Overview
Want a prioritisation device to use in co-design workshops or on the back of an envelope for a fast decision?
The Impact Effort Matrix is a simple, visual decision-making tool to help teams prioritise their efforts based on the likely effort vs end impact.
The matrix is best used to prioritise almost anything, including but not restricted to project options, sprint priorities, product features, actions, technology solutions, or even personnel.
QUADRANTS.
As can be seen in the diagram, the quadrants can be rated as:
Easy wins: low effort and high impact — yes.
Major projects: high effort and high impact — maybe.
Fillers: low effort and low impact — maybe.
Thankless work: high effort and low impact — no.
IN YOUR LATTICEWORK.
The Impact Effort Matrix is inspired by models such as the Eisenhower Matrix. It's a popular prioritisation tool in a range of domains with alternatives including RICE Score, the Kano Model and even The Pareto Principle.




Share this model with your network to be smarter, faster, together!
Actionable Takeaways
Ensure that the team is clear about the goal, the audience, and what success looks like so they can make an informed judgement about the level of 'impact'.
Allow the team to generate possible solutions or actions that will help to achieve the goal. This is typically done with a single idea being captured via a digital workspace or physical post-it note.
Create the matrix and place notes.
Draw up the grid and provide an explanation of the axis, reminding participants of the project goals. Allow people to place cards on the grid as accurately as they can.
Discuss, challenge, sort.
The discussion should focus on questioning and/or challenging the placement of cards as required with agreements left unspoken. You might consider using a voting option here — with participants marking cards with stickers to represent agree, disagree or question. At the same time, there might be opportunities to streamline and consolidate some of the similar or overlapping ideas.
Once the positioning is established, use the four quadrants to prioritise actions. Committing to the high impact and low effort quadrant, and discussing possibilities in the two 'maybe' quadrants. Finally, consider if any of the ideas in the 'no' quadrants might be adapted or improved upon to move them to the other quadrants.
Explore More
Impact Effort Matrix is featured in these playbooks:
The Impact Effort Matrix tends to be generated based on opinions and estimations rather than any data. This is problematic with two such complex and often unpredictable parameters. Even the definition of impact and effort for that project can often be interpreted differently by various team members.
Unlike the RICE Score, it also does not consider confidence or reach as distinct from impact.
Product design.
This approach is often used in the design for online products, classifying a possible feature roadmap via the two-axis to identify priority areas.
This model will help you to:
The impact effort matrix is based on a common grid approach, inspired by models such as the Eisenhower matrix. It is a popular prioritisation tool in a range of domains with alternatives including RICE score and kano.
Use the following examples of connected and complementary models to weave the impact effort matrix into your broader latticework of mental models. Alternatively, discover your own connections by exploring the category list above.
Connected models:
RICE score and kano as alternative prioritisation options.
Pareto principle: in identifying the high value areas.
Eisenhower matrix: which is a more individually targeted approach based on similar concepts.
Cost-benefit analysis: another method of identifying relative value.
Complementary models:
Second order thinking: considering beyond the immediate placement of cards.
Agile methodology: an iterative approach that works well with this form of prioritisation.
Empathy map: to consider the potential impact on a specific audience group.
Zawinski's law: a warning to prioritise and avoid product bloat.
The origins of this matrix are difficult to identify. It seems to have been influenced by the Eisenhower Matrix and has been attributed to Dave Gray, a consultant in visual thinking.

My Notes
Oops, That's Members' Only!
Fortunately, it only costs US$5/month to Join ModelThinkers and access everything so that you can rapidly discover, learn, and apply the world's most powerful ideas.
ModelThinkers membership at a glance:

UNLOCK EVERYTHING
Access all mental models and premium content.

BUILD YOUR LATTICEWORK
Save models to your personal list.

QUICKLY MEMORISE MODELS
Use our Learn function to embed models to memory

PERSONALISE MODELS
Add your own notes and reminders.

BUILD YOUR 'EXTERNAL BRAIN'
Discover a new idea? Capture it by adding a new model.

JOIN THE MT COMMUNITY
Rate models, comment and access exclusive events.
"Yeah, we hate pop ups too. But we wanted to let you know that, with ModelThinkers, we're making it easier for you to adapt, innovate and create value. We hope you'll join us and the growing community of ModelThinkers today."
Arun Pradhan & Shai Desai
CoFounders, ModelThinkers.
You Might Also Like:
- Actionable summaries of the world's most powerful ideas.