Popular searches
Categories
Learn & Achieve
Collaborate & Lead
Deliver Value
Make Better Decisions
Industry Knowledge
Live Well
Sub categories
Be more productive
Learn & grow
Behavioural economics
Innovate
Collaborate & influence
Manage projects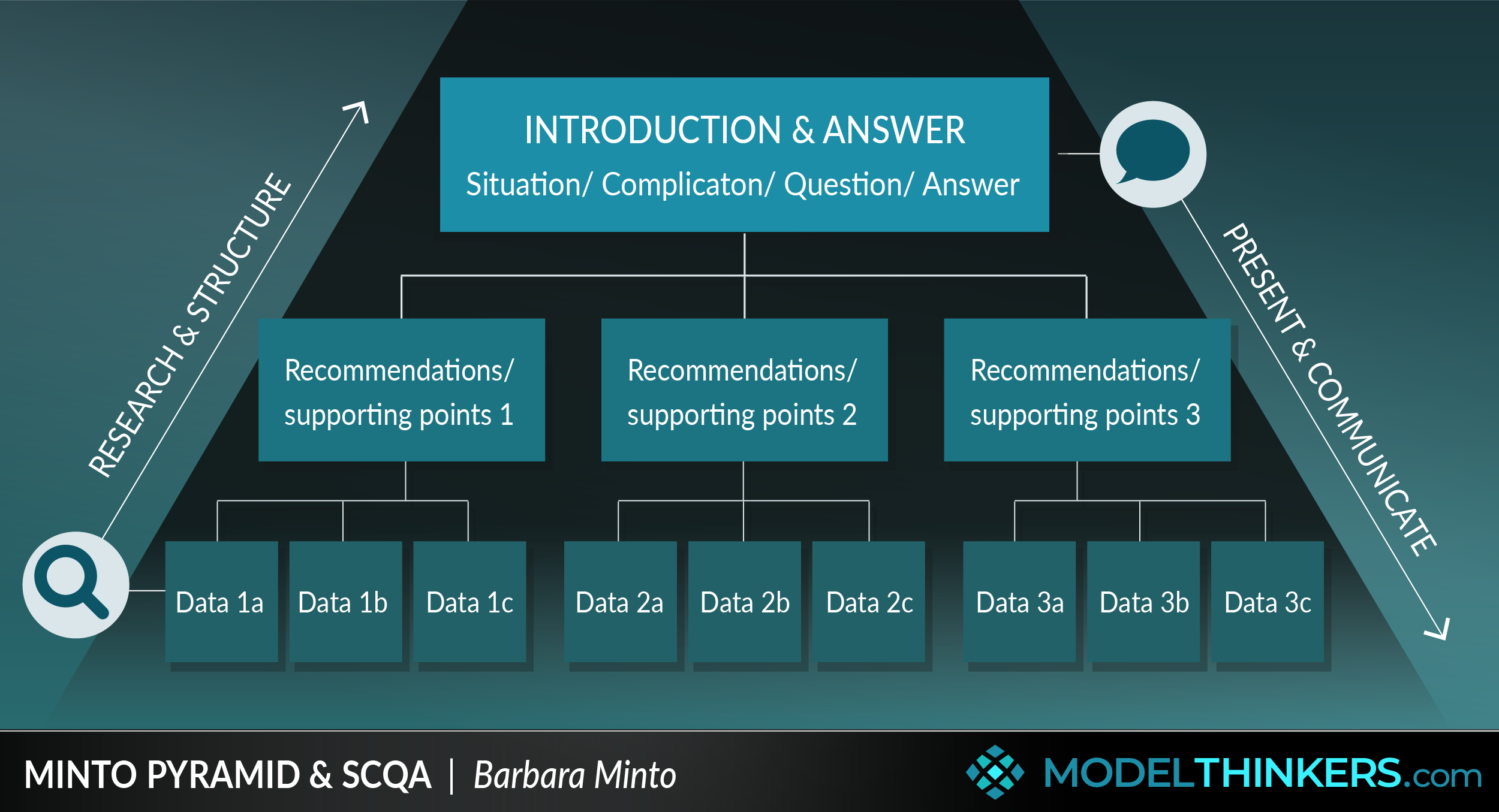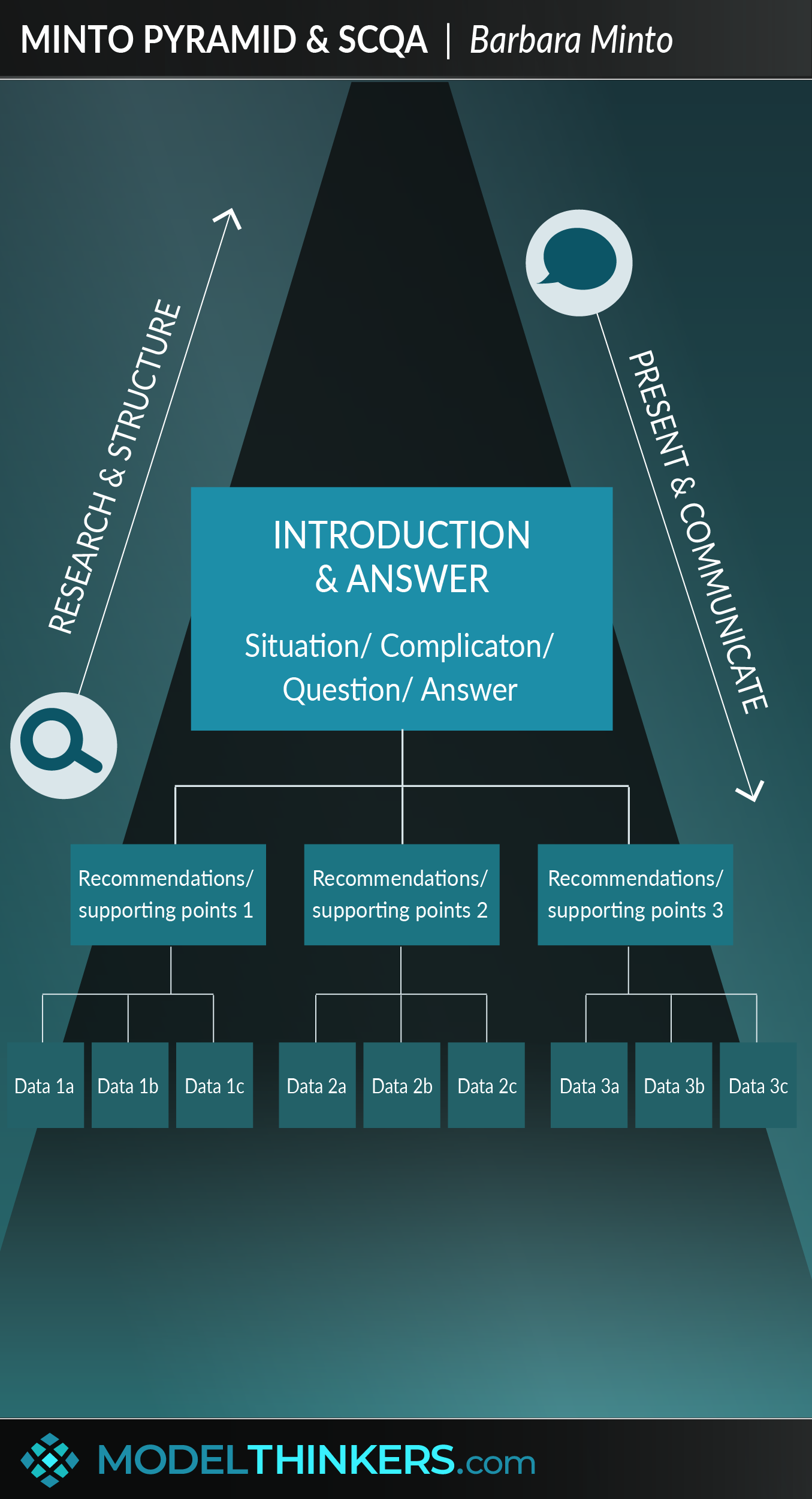 0

saved

34.9K views
Share this with your network




Share this with your network




Overview
Imagine this: you've spent the last few months leading a team to understand and solve a complex problem and now you've been given 20m to report to an executive team. Your audience has dozens of presentations packed in before and after your session, they're busy, overwhelmed, and want to see results. So how can you best deliver what they need in a logical, meaningful and compelling narrative?
That was the question repeatedly faced by Barbara Minto, a leader at McKinsey, and she developed what has become a mainstay for business storytelling and structuring PowerPoint decks in the consulting world.
The Minto Pyramid is a way to organise presentations, communication and thinking in an 'executive friendly' way, by starting with the answer and key idea; grouping and summarising your recommendations and supporting arguments; and logically ordering your supporting ideas.
THINKING vs COMMUNICATING.
Minto recommends using this model in two separate modes. The thinking process is done from the ground up, naturally progressing from your findings to recommendations to your key answer or theme. Importantly, with this model, communicating is done in the reverse, sharing it from the top down - the opposite of your thinking and your journey.
KEY ELEMENTS.
Let's break down the pyramid in more detail:
The introduction and answer (use the SCQA model):

This top-down approach involves leading with the answer to the executive's question.
It's likely to counter your natural inclination to logically build an argument and reveal your conclusion at the end.
It presupposes that you are razor clear on the problem that is being solved for and the question that you must address.
This section must clearly and concisely answer the question 'what should we do?' with 'you should x'.
You can still create a story to this section to 'hook' your audience, Minto suggests using the SCQA model which outlines the situation or context; the complication or problem; the question; and the answer.
This section frames the rest of the presentation which can be drawn on as required.

Recommendations and supporting points:

These might be findings but are often recommendations expressed as an action statement to create a clearly defined outcome.
They would ideally provide the 'so what' or the call to action, depending on the nature of the report.
Ideally use the rule of three for supporting points for each recommendation.

Supporting data:

This is the evidence, data, findings and more detailed insights that support the previous points.
MUTUALLY EXCLUSIVE & COLLECTIVELY EXHAUSTING (MECE).
A supporting model to help develop your pyramid is the MECE principle, also developed by Barbara Pinto and used at McKinsey. MECE is a method to Divide and Conquer by identifying subsets that are mutually exclusive (ME), and collectively exhaustive (CE). MECE avoids overlapping or double counting and creates distinct, independent 'buckets' of work.
USE IT FOR PRESENTATIONS, CHATS, EMAILS & MORE.
Minto's Pyramid is effective for presenting and engaging with busy executives who want answers and supporting information as required and is just as effective for structuring an email or even a 2-minute impromptu conversation.
SITUATION, COMPLICATION, QUESTION & ANSWER (SCQA).
We've combined the discussion of Minto's Pyramid and SCQA in this one model entry - however, consider using SCQA as a stand-alone model to quickly describe the situation, complication, question and answer for any challenge.
INFORMATIONAL AND EFFICIENT, NOT SO COLLABORATIVE.
One note explored in Limitations below is that this approach does not particularly lend itself to co-design or collaborative engagement, so it's essential that you know your audience to assess whether this is the most effective approach.
IN YOUR LATTICEWORK.
As outlined, Minto's Pyramid is a key communication and presentation approach in the consulting and business world and incorporates the SCQA model and MECE principle in its application. It's worth considering MECE as a connected model to Divide and Conquer. Incorporate Aristotle's Rhetoric into your messaging to make the most of tested persuasive techniques.
Depending on context and audience it might be more effective to leverage a very different communication approach in the form of the Hero's Journey. Finally, where appropriate, you might supplement this model's lack of collaboration with Design Thinking.




Share this model with your network to be smarter, faster, together!
Actionable Takeaways
Research, synthesise and structure from the bottom up.
Frame your work with the challenge, then work from the bottom of the pyramid, considering the MECE and divide and conquer principles to break up the areas into manageable areas. Hold off creating your written draft until you are clear what will sit on the top of the presentation.
Communicate from the top-down, focusing on your findings, not your journey.
This model contrasts sharply with the hero's journey which describes a narrative of overcoming challenges. The SCQA model does this to a point, but it is entirely delivered upfront.
Use summary headlines and titles to create a clear hierarchy.
A document or slide deck should use titles to substantively and visually demonstrate the hierarchy of the pyramid. For example, rather than having a title saying 'There are three reasons why we should do x', the title should say 'We must do x because it's aligned to our strategy, supports industry trends and plays to our strengths.' It summarises the points below which present further arguments and support if required.
Use the pyramid to present but also to communicate.
The pyramid is commonly used to write and deliver formal presentations but can also be applied in meetings. When asked a question you can respond with the pyramid. So rather than saying 'I've found that x, y and z and think we should do w', consider saying, 'I think we should do w, because of x, y and z.' Similarly, experiment with this approach for your email communication, using a clear summary statement upfront then breaking it down.
Explore More
Minto Pyramid & SCQA is featured in these playbooks:
There are two main limitations of this approach - firstly, if the main recommendation or 'answer' is rejected then the rest of the report might be rejected along with it. If it was presented in reverse order, an executive might agree with much of the initial information and analysis but differ on the key action point.
The second key limitation, as mentioned in the overview, is that it tends to kill a collaborative or co-design approach to seeking out the solution. That is fine if your audience wants the quick takeaways and recommendation delivered to them, as is often the case with executives. However, with the rise of design thinking and co-design, there are also some situations where a more collaborative approach would be warranted.
McKinsey Global flows slide deck.
While this deck represents a report without focusing on specific recommendations, it still essentially applies Minto's pyramid in its approach and structure, even its informative titles.
Siemens digitisation report.
This longer report still uses Minto's pyramid in its structure.
This model will help you to:
Minto's pyramid is a key communication and presentation approach in the consulting and business world, and incorporates the SCQA model and MECE principle in its application.
Use the following examples of connected and complementary models to weave Minto's pyramid into your broader latticework of mental models. Alternatively, discover your own connections by exploring the category list above.
Connected models:
Divide and conquer: particularly in the form of the MECE principle.
Complementary models:
Design thinking: as an alternative, more collaborative approach to engaging with an audience.
Hero's journey: also a contrasting option to present a narrative, though it could be argued that the upfront SCQA model incorporates aspects of the hero's journey.
The Minto pyramid distils Barbara Minto's long history in consulting in McKinsey and beyond. She captured her approach in several books, the latest, published in 2020, is The Pyramid Principle.
Minto also offers courses in learning how to apply the model at her website.

My Notes
Oops, That's Members' Only!
Fortunately, it only costs US$5/month to Join ModelThinkers and access everything so that you can rapidly discover, learn, and apply the world's most powerful ideas.
ModelThinkers membership at a glance:

UNLOCK EVERYTHING
Access all mental models and premium content.

BUILD YOUR LATTICEWORK
Save models to your personal list.

QUICKLY MEMORISE MODELS
Use our Learn function to embed models to memory

PERSONALISE MODELS
Add your own notes and reminders.

BUILD YOUR 'EXTERNAL BRAIN'
Discover a new idea? Capture it by adding a new model.

JOIN THE MT COMMUNITY
Rate models, comment and access exclusive events.
"Yeah, we hate pop ups too. But we wanted to let you know that, with ModelThinkers, we're making it easier for you to adapt, innovate and create value. We hope you'll join us and the growing community of ModelThinkers today."
Arun Pradhan & Shai Desai
CoFounders, ModelThinkers.
You Might Also Like:
- Actionable summaries of the world's most powerful ideas.